Why Choose Us?
Captivating, Compelling, and Creative – that's our mantra when it comes to crafting visually stunning commercial videos that leave a lasting impact. We understand the power of storytelling through video, and we're here to bring your brand's narrative to life in the most engaging and effective way possible.

Quality Assurance: We take pride in our attention to detail and commitment to delivering high-quality videos on time and within budget.

State-of-the-Art Equipment: We invest in the latest technology and equipment to ensure your videos are visually stunning and technically flawless.

Collaborative Approach: We believe in working closely with our clients to understand their vision and goals, ensuring every project is a true collaboration.

Affordable Packages: We offer flexible pricing options to accommodate businesses of all sizes.

Importance of Videos
Videos are an incredibly powerful tool for marketing in today's digital landscape. Their importance stems from their ability to engage, inform, and connect with audiences in ways that text and images alone cannot. Here are some key reasons why videos are important for marketing:

Higher Engagement:

Videos tend to capture and hold viewers' attention better than text or static images. This engagement can lead to longer exposure to your marketing message, increasing the chances of conversion.

Increased Conversions:

Video content can have a direct impact on conversion rates. Whether you're selling a product or service, video can help explain its features, benefits, and how it solves a problem, making it more likely for viewers to take action.

Improved SEO:

Search engines like Google favor video content in search results. Incorporating video into your marketing strategy can help improve your website's SEO, leading to better visibility and more organic traffic.

Brand Storytelling:

Videos provide an excellent platform for storytelling. They allow you to convey your brand's story, values, and personality in a compelling way, which can foster a deeper connection with your audience.

Social Media Impact:

Social media platforms prioritize video content in their algorithms. Posting videos on platforms like Facebook, Instagram, TikTok, and YouTube can help you reach a broader audience and increase engagement with your brand.

Trust and Credibility:

High-quality videos can enhance your brand's credibility and authority within your industry. Testimonials, expert interviews, and educational content can build trust with your audience.

Global Reach:

Videos can transcend language barriers, making it possible to reach a global audience. You can add subtitles or translations to make your content accessible to a wider range of viewers.
Video editing & production
Video editing is the manipulation and arrangement of video footage & still photographs. Video editing is used to structure and present all video information, including films and television shows, video advertisements and video essays.

Video editing has been dramatically democratized in recent years by editing software available for personal computers. Editing video can be difficult and tedious and this is where The Guys will help you to produce professional looking videos.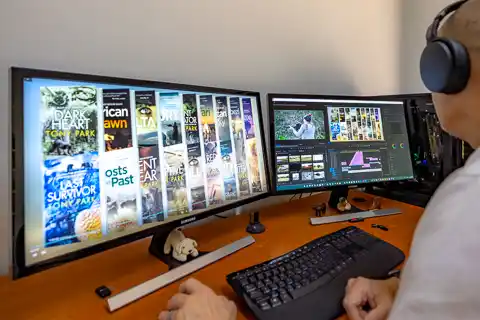 We use Adobe Premiere Pro, the industry-leading video editor to edit visually stunning videos and create professional productions for sharing and marketing on your website & social media platforms.